Classroom material containing sexually explicit language was used to teach 10th grade students about myths in pornography, "popular categories" and "child-like porn" in an Oregon school district, prompting outrage on social media.
Slides from a lesson on sexually explicit media inform students about different types of pornography such as p**** licking, big a**, big d***, squirting and Hentai were shared by the Oregon Moms Union Facebook page.
"I think it would make a lot of grown-ups blush," Oregon Moms Union co-founder MacKensey Pulliam told Fox News. "The way that they went about teaching it and some of the content that was on the slides was really explicit."
PARENTS PUSH TO RECALL OREGON SCHOOL BOARD AFTER REPORTS OF 'DISGUSTING' SEXUAL GAMES, EXPLICIT BOOK
A spokesperson for the Hillsboro School District confirmed to Fox News that the series of slides about pornography are part of a state mandate that "students receive age-appropriate instruction to help them recognize and respond to unsafe situations and to increase awareness of child sexual abuse."
"Pornography is not promoted in these lessons," Hillsboro School District communications officer Beth Graser wrote in a statement to Fox News. "Similar to how we approach suicide prevention lessons, we utilize research-based materials and clear language as we teach students these sensitive topics."
Pulliam said a concerned parent shared photos of the slides with Oregon Moms Union after being permitted to view the curriculum in person at a school. Some online commenters disagreed with the backlash, calling the upset parents "out of touch."
"You're all getting triggered by the explicit words, but the message is obviously a warning that they should not believe the situations depicted in porn are normal," one Facebook user wrote. "These kids live on the internet. Your teen children have all discovered porn, and they will not tell you that."
PARENTS OUTRAGED AFTER OREGON TEACHER ASKS STUDENTS TO WRITE 'SEXUAL FANTASY' SHORT STORY
But parents like Pulliam, whose children attend school in a different district, say the curriculum may have been well-intended, but the language in the slides goes too far.
"I can't imagine being a teacher standing up in front of a classroom full of girl minors — like a male teacher — saying some of these words," Twitter user Coco told Fox News. Her post about the slides garnered more than 100,000 views. She said a teacher sent them to her and expressed discomfort with being asked to read the slides.
The slide about different types of porn uses emojis such as a peach, an eggplant, an octopus, a slice of cake and a tongue to illustrate graphic categories. Under one emoji of a taco reads either "Latino" or "Latina," but a blur makes it difficult to tell which.
Another slide is titled "Child-Like Porn & Power Dynamics" followed by teen, barely legal, step-brother, and "Daddy's Little Girl" as examples. A slide labeled "Small Groups" prompts students to read a scene, discuss, rewrite the scene and share it with the class while considering how "mainstream porn" may have influenced the situation.
"Pornography is highly addictive and to teach it that there's any type of normalcy about it is completely out of line and inappropriate," Coco said.
OREGON DEMOCRATS BACKPEDAL AFTER MASSIVE PUBLIC OUTCRY AGAINST BILL ALLOWING HOMELESS TO SUE OVER ENCAMPMENTS
Before teaching the sexual education lessons, Graser said families receive a letter notifying them about the topics to be covered. Parents may opt out of individual lessons or the entire curriculum.
But Pulliam said she has heard from numerous Hillsboro parents who "were not aware that this was being taught."
The slides about pornography do not appear to be published on the district's website. Graser wrote that the district provides access to "as much content as possible online," but in cases where they are "unable to do so because of copyright concerns, families are encouraged to make an appointment to come in and view all of the materials."
"I think there just needs to be more transparency in the curriculum and we just need to make sure that it's age-appropriate," Pulliam said.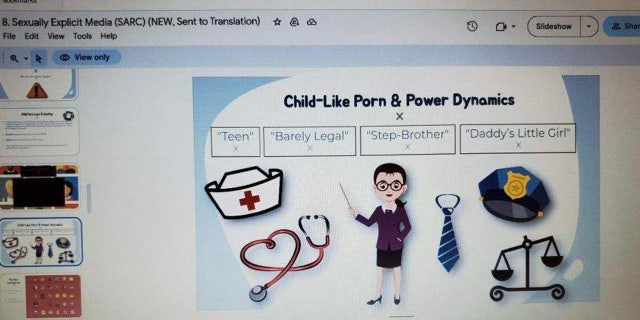 Oregon lawmakers passed Senate Bill 856, also known as Erin's Law, in 2015. It requires schools to offer age-appropriate sexual abuse prevention programs for students in kindergarten through 12th grade. Lessons for the youngest children start with topics like "All Families are Different," and "Safe, Unsafe, & Unwanted Touch," according to the Hillsboro School District's curriculum, and build from there throughout the grade levels.
The school district said the Sexually Explicit Media lessons meet Oregon Department of Education standards by analyzing and critiquing how media influences health beliefs and behaviors, and exploring "external influences and societal messages that impact attitudes about bullying, sexual harassment, coercion, sexual abuse, sexual assault, incest, rape, stalking, domestic violence, and dating violence."
Read the full article here