Police-worn body camera footage from police in Hawaii shows officers serving Lori Vallow a subpoena regarding her missing children while she relaxes poolside in January 2020.
Vallow and her husband, Chad Daybell, are facing trial for the murders of two of Vallow's children, J.J. Vallow and Tylee Ryan, around September 2019, and for Daybell's first wife, Tammy Daybell, in October 2019. Vallow's trial began last month following a "speedy trial" demand.
The recently unearthed video from the Kauai Police Department obtained by FOX 10 Phoenix shows authorities handing a subpoena to a bikini-clad Vallow while she lays next to Daybell on Jan. 25, 2020.
In the video, Vallow appears to be reading, "Visions of Glory," a book about near-death experiences and the end of days, according to FOX 10 reporter Justin Lum.
LORI VALLOW THREATENED TO 'CUT' UP BESTIE WHEN FRIENSHIP TURNED SOUR
The couple married in Hawaii on Nov. 5, 2020, while Vallow's two children were still considered missing.
LORI VALLOW TRIAL: HEAR 'CULT MOM' AND HER SISTER SPEAK AFTER VALLOW'S CHILDREN FOUND DEAD
Prosecutors revealed last month that on Oct. 22, 2019 – the day of Tammy Daybell's funeral, three days after her death – the user of a Gmail account associated with Vallow searched "wedding dresses" and "wedding dresses in Kauai."
The couple first met in 2018 at a Preparing a People conference and shared the belief that they had been married in a past life. They also believed people emit light or dark spirits – sometimes so dark that certain people could be considered zombies, prosecutor Lindsey Blake said earlier this month, Lum reported at the time.
LORI VALLOW TRIAL: IDAHO CORONER REVEALS JJ VALLOW AND TYLEE RYAN'S CAUSES OF DEATH 
When investigators dug up J.J. and Tylee's remains on Daybell's rural Idaho property in June 2020 — nearly 10 months after the children went missing in September 2019 — they found J.J.'s body wrapped in tape with a plastic bag over his head and Tylee's body dismembered and badly burned.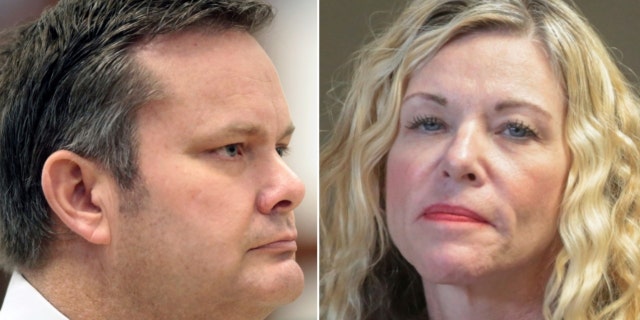 The Ada County coroner testified last month that J.J. died of asphyxiation by a plastic bag, and Tylee died of homicide by unknown means. It was the first time the public had heard how the children died since their bodies were found three years ago.
Vallow and Daybell allegedly collected J.J.'s and Tylee's Social Security benefits between Oct. 1, 2019, and Jan. 22, 2020, after their murder.
Authorities arrested Vallow in February 2020 and Daybell in June 2020.
The couple was indicted in late May 2021 on multiple counts each of conspiracy to commit first-degree murder and grand theft by deception, and first-degree murder related to the deaths of Tylee, J.J. and Tammy Daybell, officials announced at the time. 
Arizona officials in June 2021 also indicted Vallow in the July 2019 murder of her ex-husband, Charles Vallow.
Read the full article here