The Florida Department of Education has approved approximately two-thirds of submitted social studies instructional materials, sending the rest back with notes for changes.
Florida Commissioner of Education Manny Diaz Jr. released on Tuesday the state's current list of approved social studies instructional materials for kindergarten through high school. 
The Florida Department of Education approved 66 sets of materials out of 101 submissions, or approximately 65.4%. 
"When submitted materials were initially reviewed upon submission, only 19 of 101 (19%) materials were initially approvable due to inaccurate material, errors and other information that was not aligned with Florida Law," the Florida Department of Education wrote in a press release.
GOV. DESANTIS SIGNS UNIVERSAL SCHOOL CHOICE INTO LAW: 'MONUMENTAL DAY IN FLORIDA HISTORY'
The department's statement continued, "Since then, the Department has worked directly with publishers, who have updated their materials to comply with Florida's rigorous standards."
Examples of materials that the department has required to undergo alterations include the removal of an "at home support" sheet for parents that encouraged them to discuss with their children why some people kneel for the American flag.
PROTESTERS FLOOD DESANTIS' OFFICE AFTER FLORIDA REPUBLICANS PASS SWEEPING EDUCATION BILL
Another provided example shows discussion prompts about "social justice issues" being taken out of proposed lessons on the Hebrew Bible.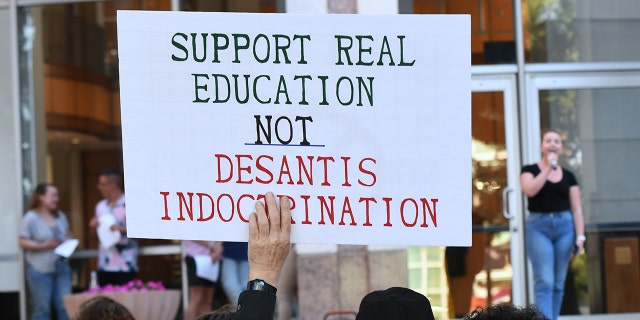 Florida Gov. Ron DeSantis has made public education reforms a cornerstone of his governorship.
DeSantis signed universal school choice into law in March, making the Sunshine State the fourth to pass such protections. 
CLICK HERE FOR THE FOX NEWS AP
Florida House Bill 1 expands available school choice options for all 1.3 million students in Florida by eliminating financial eligibility restrictions and the current enrollment cap. 
DeSantis' office claims the legislation will "further cement Florida's position as the nation's leader in school choice."
Read the full article here